Stow's place in history is strongly linked to its religious significance. From the mists of time, it appears that Christianity arrived in the area in the 7th or 8th centuries, and there are written records of St Mary's Well dating back to 826 AD.
Various explanations have been given for the name of the village; until recently it was accepted that Stow came from the Anglo-Saxon for a stockaded place and Wedale described the country of the Goidel – an old British tribe who lived in a wide expanse from Wales to the river Tay. But it is more likely that the name means The Holy Place in the Valley of the Shrine (wiche meaning "shrine" and dale meaning "valley"; wiche dale = "wedale"). This definition takes us back to Our Lady's Well which stands just to the south of the village.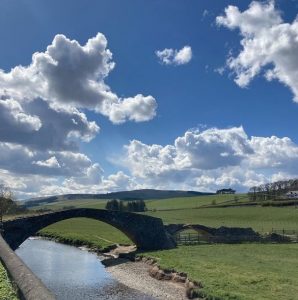 The church in Stow had a special place in medieval times as with the support of the Bishop of St Andrews, the parish of Stow became one of only three sanctuaries in Scotland in which there was safety from persecution. There is an unbroken link through various secessions and buildings to today's parish church. The Auld Kirk stands near the site of the Bishops' Palace and the rare pack horse bridge, built in 1654-5 and using stone from part of the church!
Until the eighteenth century, Stow would have been a farming community, but with the coming of the turnpike road to the west of the Gala Water in 1754, and the impact of the industrial revolution, the village became a small centre of industry, with an emphasis on spinning and weaving.
The presence of the railway from 1862 to 1968 helped this trend, but in more recent times, local authority employment and commuting (particularly to Edinburgh and the Lothians) have become the staple for the inhabitants. In the 1972 local authority regionalisation, Stow was no longer a part of Midlothian and became part of Selkirkshire and the Scottish Borders.
The village is a picturesque and thriving community, easy to reach by road, rail or even bicycle!