STOW WALK IT Remember you can join the Stow Walk It Tuesday walk at 12.30 at the Station House for a 45 min walk. It's a great way to get a break if you're sitting in front of a computer screen all day or just to enjoy our beautiful countryside. Our Thursday morning walks start […]
HALLOWE'EN FUN IN THE PARK! Stow Community Park invites you to an afternoon of ghoulish glee in the park! Lots of competitions for all the family: get carving pumpkins and turnips, baking pumpkin pies and putting together those fancy dress costumes! See you at 2pm, Sunday 31 October!
The latest copy of the Stow & Fountainhall Community Newsletter is now out and a digital copy is available here.  Another bumper edition, it shows how much is happening in the valley and how everyone can get involved!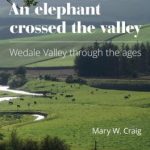 NEW VALLEY BOOK LAUNCHES!  A new book by Mary W Craig telling the long, fascinating story of our valley, launches very soon with launch nights in Fountainhall, Heriot and Stow.  All welcome, refreshments courtesy of the Parish of Stow Community Council which has funded the project. Come along and hear all about the history of […]
TOUR OF BRITAIN ROUTE DETAILS Scottish Borders Council has published details of when and where the Tour of Britain cycle route will travel and information for spectators.  Roads may be busier than normal, with traffic interrupted to allow the cyclists to proceed.  See the Borders Council website for details.
TOUR OF BRITAIN ARRIVES TODAY! The Tour of Britain arrives in the valley today – passing through Heriot and Stow before travelling on to Edinburgh.  There's a lot happening in Stow today: 9.30 – BIKE CHECKS at the Cycle Hub, Station House 10am – PUMP TRACK open, Stow Park FROM NOON (NOTE UPDATED TIME) THE […]
Posted in

Community Projects, Featured, Green Stow, News
| Tagged

A7 closure, cycling, Green Stow, road closures, Scottish Borders, Station House, Stow, Tour of Britain
|
Leave a response
STATION HOUSE TOURS today! The Stow Station House will be open today until 2.00pm for visits and again next weekend from 10.00-2.00 on both Saturday and Sunday.  You are welcome to see the renovated building, including the future bar, dining area and snug.  The Cycle Hub w ill also be open at these times, ready […]
TOUR OF BRITAIN UPDATE from the SCT The Tour of Britain is coming to the valley.   Let's show the very best of Stow and Heriot and make our visitors welcome! LET'S MAKE OUR MARK AND WELCOME THIS WORLD FAMOUS EVENT BY DECORATING THE OUTSIDE OF YOUR HOUSE AND GARDEN – ESPECIALLY IF YOU ARE ON […]
GALA WATER VALLEY TOURS, TICKETS STILL AVAILABLE. The two walking tours starting in Stow on the weekend of the Scottish Borders Walking Festival still have tickets available.  The Gala Water History and Heritage Association has developed a new history tour of Stow looking at the village's many legends and rich medieval history. From the prehistoric […]
HEART OF FOUNTAINHALL The Village Hall is now open again! This popular asset at the heart of the community is now available to hire. #Galawater #StowofWedale #scottishborders The SWI recommence their activities with an open meeting on 8 September then normal meetings on the third Wednesday evening of every month, starting on 15 September.