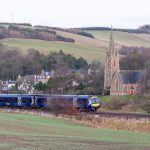 RAIL SERVICE IMPROVEMENTS. From 15 May, Scotrail is increasing the frequency of trains on the Borders Railway. For the first time since the railway was reopened, Stow is to benefit from a half-hourly service all day from 0730 until 1930 and then hourly again, bringing parity with all other stations on the line. This will […]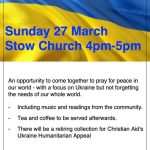 SUNDAY 27 MARCH: ALL welcome for a Stow Service of Peace. Stow St Mary of Wedale, 4.00pm.
STOW FOLK STATION HOUSE SESSIONS Stow folk music sessions are back again meeting on the first Sunday of the month at Stow Station House, 3pm. All welcome to sing, play music or just listen and enjoy…
HERIOT Santa Dash – Saturday 12th December! 5km Santa dash @ 2pm Kids/family dash @ 1:30pm Register from 1pm Virtual entries welcome – must submit before live. Further details available here.
It's HERIOT Pantomime time! Oh, yes it is…! ONLY on the evenings of 3rd & 4th December, Heriot Players present their 40th production with Cinderella! 7.30pm, MacFie Hall, Heriot. Tickets available from Stow Post Office and cast members. Price £6 adults children £4, book now to celebrate all the fun and festivities of our 40th!
EVENT TODAY – STOW COP26 – LOCAL TO GLOBAL – Saturday 13 October. Stow Station House is looking fabulous for today's Local to Global event. There are lots of stalls, activities, clothes and toy swaps lined up and maybe some of our star Disrupters from Stow Primary School! Come along between 12-4pm, you'll be very […]
Remembrance Sunday in the valley takes place this Sunday, 14th November. In HERIOT: – 9.30am service, Heriot Church – act of remembrance after the service at the gates to the churchyard (approx 10.10am) In STOW: – 11am act of remembrance at Stow War Memorial; – 11.15am service, Stow Town Hall – ground floor. All welcome.
STOW COP26 – LOCAL TO GLOBAL – BE PART OF THE MOVEMENT! The award-winning Stow Disrupters from Stow Primary School, volunteers from Green Stow and Stow Community Trust have arranged a weekend of events to mark the end of COP 26 and to set our intention for our journey to tackle climate change across our community! […]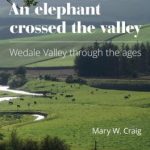 NEW VALLEY BOOK LAUNCHES!  A new book by Mary W Craig telling the long, fascinating story of our valley, launches very soon with launch nights in Fountainhall, Heriot and Stow.  All welcome, refreshments courtesy of the Parish of Stow Community Council which has funded the project. Come along and hear all about the history of […]
GALA WATER VALLEY TOURS, TICKETS STILL AVAILABLE. The two walking tours starting in Stow on the weekend of the Scottish Borders Walking Festival still have tickets available.  The Gala Water History and Heritage Association has developed a new history tour of Stow looking at the village's many legends and rich medieval history. From the prehistoric […]