Stow Boys Brigade is currently (2022) inactive. For more information, contact David Murray on 01578 730546.
Fountainhall Baby and Toddlers.  Every Friday 9.30am till 11.30am. Cost is £2 per family. Held in Fountainhall village hall.  Parents without kids welcome
The Fountainhall Women's Rural Institute hosts monthly meetings with talks and demonstrations on diverse topics. New members and guests are always welcome.  Meetings are held in Fountainhall Village Hall at 7.30pm on the third Wednesday of each month (except July and August) The SWRI (Scottish Women's Rural Institute) encourages home skills considers family welfare and […]
The Gala Water Camera Club was begun as a social and discussion group in Heriot Village for local people who were interested in the use of Cameras and Photography. This has now expanded to cover video, the digital issues around software, printing and other related matters as well. In 2013 this group was formalised into […]
The Gala Water Horticultural Society had been an active society that existed in the village for many years. In 1981 however it had run its course and for the next 13 years it lay, not so much dead as dormant. In 1994 however a number of interested parties called a meeting to see if there […]
The aim of GWOAC is to promote outdoor activities. The club is open to all and all are welcome. The club was first set up in Stow over thirty years ago and initially became a focus for canoeing in Stow and the Borders. It then went on to promote orienteering and now is mainly involved […]
If you'd like be part of Gala Water Singers, remember there are no auditions and you don't have to read music. We meet in Fountainhall School on Tuesdays from 7.30-9.00pm though it's probably best to give John or Paul a ring to make sure we're not having the occasional change of venue. We're happy for […]
Join Green Stow! Green Stow is a community group, not aligned to any political party, based in Stow and the Gala Water valley in the Scottish Borders, but welcoming members and supporters from everywhere!  We are a hub for everyone who is interested in environmental projects in the valley and concerned about the impact and […]
The purpose of the Little Book Shed is that anyone can come along and borrow a book to read in the Community Garden or at home and then either return it or replace it with another book. There are several boxes inside, which hold all books to keep them safe and from the elements, all […]
Roxburgh Reivers Orienteering Club has a long connection with Stow. The village has produced many good orienteers and event organisers – not least the family of the present Chair of the Club. Orienteering is a good activity for all the family with a structured class system providing courses for all abilities – gentle introductory courses […]
Sound Out is a not for profit organisation based in the Scottish Borders. We provide opportunities and support for young performers or performers just starting out. We stage events where we provide the venue, equipment, insurances and technical support. In some instances we also become the backing band for performers. All profits are used to […]
The Stow and District Pensioners' Society is open to all persons over the age of 60. The annual membership fee is only £2 per year. The Society has existed since 1947 and is a Registered Scottish Charity which is run by a committee of volunteers. We are always happy to receive offers of help and […]
Stow A.F.C. play in the Border Amateur league. The club was reformed in 1987. We train on Tuesday & Thursday nights. For more information please email Tucker McCall, or call him on 07795 964 513.
Parents and other carers of pre-school children get together twice a week for fun, play, snacks and a blether at the Stow Town Hall. Meeting times: Tuesdays: Music group 9.30-10.30 Thursdays: Playgroup 9.30-11.30 Membership fee is £5 per year per family. Session fees are £1 per music group session and £2 per playgroup session. We […]
As a small village bowling club our membership consists of Male and Female bowling and social members, of all ages. We take part in all the Border and Scottish Bowling Association competitions and we also play open club competitions throughout the bowling calendar. During the closed season for the green carpet bowls can be played […]
Stow Highland Dance School takes place every Wednesday during term time January – November.  Times are 3.45pm till 4.45pm for Juniors and till 5.15pm for Seniors.  Age 4 year old and over. More details from Amanda Runciman on 01578 730268, amanda@allanshaws.co.uk or 07767 616229. Class will commence in 2015 on Wednesday 7th January 2015.
The present day Stow Lodge of Freemasons has been in existence since 1806. It has continued to meet within the Village of Stow in the Scottish Borders for over 200 years. The Charter Date of 1806 refers to the Charter Granted to the Lodge at Stow by the Grand Lodge of Scotland, however, masonic activity […]
Stow Parish Archive is a community archive that collects photographs, stories and memorabilia of local interest. It is organised under the auspices of the Stow & Fountainhall Community Council so that any material collected will be assured safe-keeping.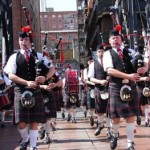 There has 'aye been' a pipe band in Stow, although the modern day band was formed around 1950. The band is based in Stow in the Scottish Borders with members of the band coming from Stow, Galashiels, Lauder, Melrose, Lilliesleaf, Edinburgh and St Boswells. The band plays regularly at many prestigious events all over Scotland […]
Wooplaw Community Woodland, the first in Britain.Wooplaw has flourished as a community organisation for over 20 yrs. It offers a lot but needs active interest and support. It is 55 acres, has four distinct areas, several buildings, ponds, a stream, paths, sculptures and a whole load of imagination. What happens at Wooplaw? Wooplaw is open […]