Join the Cycle Hub for breakfast tea and coffee at the Macfie Hall on Sunday 1st of May, after a cycle from Stow. Meet at 9am at Stow Cycle Hub and setting off to heriot at 9:30am. E-bikes are available at £10 per bike first come first served but members do have priority. If you […]
Come along to the Stow Cycle Hub to check out our ebikes this weekend! Find out about members scheme…. Check out new bikes… If you haven't tried one before come and try one out. We are open this Saturday (23 April) 10am till 4pm and Sunday (24 April) 9:30-10:30. COME AND TRY AN EBIKE!
VACANCY: Cycle Hub Manager Required We are a community-led project that is based at the new Station House in Stow, Scottish Borders. We aim to promote cycling for everyday travel activities and encourage everyone to experience the joys of cycling. We are recruiting a Cycle Hub Manager to develop and manage the Cycle Hub. Informal […]
STOW CYCLE HUB OPENING ON SATURDAYS From 15 January the Stow Cycle Hub at the Station House will open 10.00-16.00 on Saturdays. Seek advice, get bikes repaired and enjoy a chat about cycling in the heart of the village! Donations for repair, unwanted bikes and equipment very welcome.
STOW PUMP TRACK COMMUNITY INFORMATION EVENING, 2 DECEMBER The volunteers behind the Pump Track project are holding a community event on Thursday 2 December, 7.00-8.30pm at the Station House. Now that a planning application has been submitted, this is an opportunity to find out more – all welcome! If you have questions about the project […]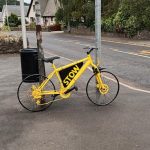 CYCLE HUB LOOKS FOR VOLUNTEERS! Calling all bike maintenance enthusiasts…! Stephen Riddell, Bike Mechanic, will be holding a training session at the Station House bike hub (tomorrow) Sunday 14th November for people who may like to volunteer as part of the Cycle Hub team to repair bikes and keep our wheels spinning. This will be […]
TOUR OF BRITAIN ARRIVES TODAY! The Tour of Britain arrives in the valley today – passing through Heriot and Stow before travelling on to Edinburgh.  There's a lot happening in Stow today: 9.30 – BIKE CHECKS at the Cycle Hub, Station House 10am – PUMP TRACK open, Stow Park FROM NOON (NOTE UPDATED TIME) THE […]
STATION HOUSE TOURS today! The Stow Station House will be open today until 2.00pm for visits and again next weekend from 10.00-2.00 on both Saturday and Sunday.  You are welcome to see the renovated building, including the future bar, dining area and snug.  The Cycle Hub w ill also be open at these times, ready […]
TOUR OF BRITAIN COMING ON 11 SEPTEMBER – GET INVOLVED! You'll know from the Tour de France how much fun communities get from being involved and welcoming the huge caravan of cars, vans and, of course, bikes as they sweep through by decorating their towns and villages – now is our chance! LET'S MAKE OUR […]