CHRISTMAS FAIR COMING SOON!  The annual Parish Church Christmas Fair will be held on Saturday 11 December 2021 at the STATION HOUSE, from 10am – 12noon. For Cake and Candy, Gifts, Pet Stockings, Bric-a-brac and Books and Tombola, mark the date in your diary. Everyone welcome!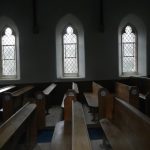 PARISH CHURCH NEWS: For the next two Sundays – 21 November and 28 November – parish church services are at Heriot Church (9.45am as usual) and also in the Station House in Stow (11.15am). All welcome. From 5 December the church building, St Mary of Wedale Stow, will be open again.
Stow Church is due to re-open for worship from 5 December 2021 (following a period of closure to allow us to deal with an infestation of dry rot).  Please see Facebook or the parish church website to check that we have re-opened as planned. In the meantime, Heriot Church is open as usual (Sunday services at 9.45am).  […]
Remembrance Sunday in the valley takes place this Sunday, 14th November. In HERIOT: – 9.30am service, Heriot Church – act of remembrance after the service at the gates to the churchyard (approx 10.10am) In STOW: – 11am act of remembrance at Stow War Memorial; – 11.15am service, Stow Town Hall – ground floor. All welcome.