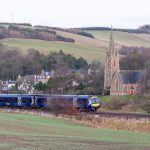 RAIL SERVICE IMPROVEMENTS. From 15 May, Scotrail is increasing the frequency of trains on the Borders Railway. For the first time since the railway was reopened, Stow is to benefit from a half-hourly service all day from 0730 until 1930 and then hourly again, bringing parity with all other stations on the line. This will […]
Stow Cycle Hub is holding another community cycle this weekend. On Sunday 15th of May the next Stow Community Cycle is going to Clovenfords, leaving the Cycle Hub at the Station House at 9:30. All are welcome to join with everyone cycling at their own pace. All types of bikes are welcome, too. There is […]
NEW STOW WALK MAP PUBLISHED! The third in the series of Walks Around Stow has now been published and is available for sale in the Stow Shop for £1. Featuring Stagehall and the Lugate Valley, this is a great walk with spectacular views. New gates have been installed on the route, thanks to a grant […]
Come along to the Stow Cycle Hub to check out our ebikes this weekend! Find out about members scheme…. Check out new bikes… If you haven't tried one before come and try one out. We are open this Saturday (23 April) 10am till 4pm and Sunday (24 April) 9:30-10:30. COME AND TRY AN EBIKE!
VACANCY: Cycle Hub Manager Required We are a community-led project that is based at the new Station House in Stow, Scottish Borders. We aim to promote cycling for everyday travel activities and encourage everyone to experience the joys of cycling. We are recruiting a Cycle Hub Manager to develop and manage the Cycle Hub. Informal […]
The Council are asking Borderers for feedback to help determine if a number of trial traffic measures introduced over the COVID-19 pandemic should be made permanent, including the 40mph limit on the back road linking Stow and Fountainhall. Comments and opinions can be registered online here.
STOW CYCLE HUB OPENING ON SATURDAYS From 15 January the Stow Cycle Hub at the Station House will open 10.00-16.00 on Saturdays. Seek advice, get bikes repaired and enjoy a chat about cycling in the heart of the village! Donations for repair, unwanted bikes and equipment very welcome.
STOW COP26 WEEKEND – a message from Stow Community Trust Thanks to everyone involved in organising, participating and attending our events this weekend, especially our award winning Disrupters! #WeAreTheChange The level of enthusiasm, knowledge and willingness to think about what we can do to make a positive our impact on our environment was fantastic! We're […]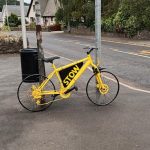 CYCLE HUB LOOKS FOR VOLUNTEERS! Calling all bike maintenance enthusiasts…! Stephen Riddell, Bike Mechanic, will be holding a training session at the Station House bike hub (tomorrow) Sunday 14th November for people who may like to volunteer as part of the Cycle Hub team to repair bikes and keep our wheels spinning. This will be […]
EVENT TODAY – STOW COP26 – LOCAL TO GLOBAL – Saturday 13 October. Stow Station House is looking fabulous for today's Local to Global event. There are lots of stalls, activities, clothes and toy swaps lined up and maybe some of our star Disrupters from Stow Primary School! Come along between 12-4pm, you'll be very […]