FURTHER RAILS STRIKES PLANNED FOR NEXT WEEK. In addition to the emergency timetable currently being operated by ScotRail, there will be further strike action across the UK on Tuesday 21, Thursday 23 and Saturday 25 June by the RMT Union and affecting signals and track maintenance. Days immediately following this industrial action may also be […]
TRAIN CANCELLATIONS continue today, Sunday 29 May. A high number of trains are being cancelled today as Scotrail have been unable to introduce a reduced timetable for Sundays based on driver availability. Therefore there will be many cancelled services. With the Edinburgh Marathon taking place today, travel may be slower on the roads also. ScotRail's […]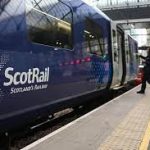 SIGNIFICANT SCOTRAIL REDUCTION FROM MONDAY 23 MAY. The much-heralded half-hourly service from Stow will be cut significantly from Monday 23 as part of Scotrail's emergency timetable, caused by a shortage of drivers. In particular, there will be only three trains departing Stow for Edinburgh before 0900 and only three departing Edinburgh for Tweedbank after 1800hrs. […]
The Council are asking Borderers for feedback to help determine if a number of trial traffic measures introduced over the COVID-19 pandemic should be made permanent, including the 40mph limit on the back road linking Stow and Fountainhall. Comments and opinions can be registered online here.
Following a fatal car crash near St Boswells, Police Scotland are appealing for witnesses – especially drivers with dash-cam footage. The incident happened around 8.15pm on Friday, 4 February and involved a silver Ford Fusion car which was travelling southbound when it left the road. Emergency services attended and a 27-year-old man, the driver and […]
TOUR OF BRITAIN COMING ON 11 SEPTEMBER – GET INVOLVED! You'll know from the Tour de France how much fun communities get from being involved and welcoming the huge caravan of cars, vans and, of course, bikes as they sweep through by decorating their towns and villages – now is our chance! LET'S MAKE OUR […]
Parts of Craigend Road and Cockholm Crescent will be closed for roadworks on Thursday 2nd, Friday 4th  and Monday 6th September, 0900-1700.  There is no alternative route during the road closure, which is to allow for resurfacing. Information is from the Scottish Borders Council.
The Tour of Britain will be returning to the Borders on Saturday September 11th. Arriving over hill in Heriot from Innerleithen, the race route joins the A7 and races through Stow towards Townfoot. The race then enters an endurance section, climbing the steep hill of Lauder Road, where the cyclists can earn 'King of the […]
Heriot Community Council advises that the B709 Heriot to Innerleithen will be closed for 15 days, 9am to 5pm weekdays (open at weekends), from 28th July to 17th August. Start Date and Duration – • Wednesday 28th July to Friday 30th July 2021 – between the hours of 9:00 and 17:00 each day • Monday […]