FURTHER RAILS STRIKES PLANNED FOR NEXT WEEK. In addition to the emergency timetable currently being operated by ScotRail, there will be further strike action across the UK on Tuesday 21, Thursday 23 and Saturday 25 June by the RMT Union and affecting signals and track maintenance. Days immediately following this industrial action may also be […]
THE REDUCED SERVICE ON THE BORDERS RAILWAY CONTINUES. The temporary timetable has now been updated to include Sundays: information is available on the ScotRail website.
TRAIN CANCELLATIONS continue today, Sunday 29 May. A high number of trains are being cancelled today as Scotrail have been unable to introduce a reduced timetable for Sundays based on driver availability. Therefore there will be many cancelled services. With the Edinburgh Marathon taking place today, travel may be slower on the roads also. ScotRail's […]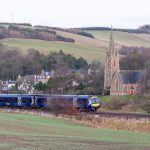 RAIL SERVICE IMPROVEMENTS. From 15 May, Scotrail is increasing the frequency of trains on the Borders Railway. For the first time since the railway was reopened, Stow is to benefit from a half-hourly service all day from 0730 until 1930 and then hourly again, bringing parity with all other stations on the line. This will […]
The Council are asking Borderers for feedback to help determine if a number of trial traffic measures introduced over the COVID-19 pandemic should be made permanent, including the 40mph limit on the back road linking Stow and Fountainhall. Comments and opinions can be registered online here.
FURTHER SCOTRAIL SERVICES REDUCTIONS IN JANUARY. The spread of the COVID-19 Omicron variant has resulted in a large number of staff absences at ScotRail, resulting in cancellations or delays. ScotRail has therefore withdrawn some services to / from STOW station, with a temporary timetable that will come into effect from Tuesday 4 January 2022, operating […]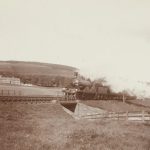 Borders Buses has confirmed there will be no X95 service on Christmas Day / Boxing Day, Ne'er's Day and January 2nd. Reduced services will be operating on other dates over the festive period. Further details are available on their website. There will be no Scotrail services on Christmas Day or Boxing Day and altered services […]
TOUR OF BRITAIN COMING ON 11 SEPTEMBER – GET INVOLVED! You'll know from the Tour de France how much fun communities get from being involved and welcoming the huge caravan of cars, vans and, of course, bikes as they sweep through by decorating their towns and villages – now is our chance! LET'S MAKE OUR […]
Parts of Craigend Road and Cockholm Crescent will be closed for roadworks on Thursday 2nd, Friday 4th  and Monday 6th September, 0900-1700.  There is no alternative route during the road closure, which is to allow for resurfacing. Information is from the Scottish Borders Council.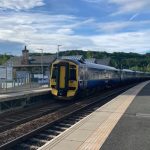 Train service cuts being proposed. ScotRail have launched a consultation on proposed service changes on the Edinburgh-Tweedbank line, which would be effective from the May 2022 timetable change next year. The proposals reduce the entire service on the Borders Railway to hourly outside of the morning and evening peak times and cut all through-services to […]